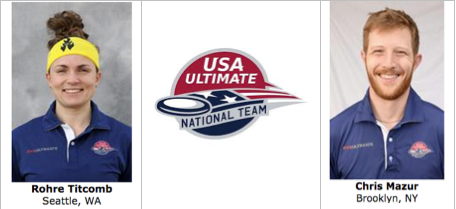 Two NEPSUL alumni will be representing the United States at this summer's World Ultimate Championships in London, England. Chris Mazur (Choate '04) and Rohre Titcomb (Hotchkiss '05) have been selected to the mixed and women's teams, respectively.
This summer is the first time that USA Ultimate has selected the players for the open, women's and mixed divisions, and is a clear indication of the work that USAU is doing to prepare for the addition of ultimate to the Olympic program, projected to begin with the 2024 summer games.
Rohre is thrilled to have another chance to wear the national jersey: "It's a huge honor to represent the US on the international stage. One of the most rewarding aspects of playing for the US National Team is the opportunity to play with players who have been on rival club teams for years and years."
Mazur is proud to play for the US for the first time, although he is no stranger to the most competitive level of ultimate, having played for top level club teams (Colt 45, PoNY) and professional Ultimate teams (CT Constitution and the New York Rumble). Chris comments: "Being able to play alongside the best players in the world, whom we've generally only gotten to play against, is the biggest honor of all. I'm extremely excited to get to play mixed on such a large stage. I imagine the future Olympic hopes for the sport lie in the mixed division for both its unique quality and increased strategic possibilities."
Mixed ultimate features teams with either four men and three women, or four women and three men on the field at a time, making Ultimate the only co-ed field sport in existence.