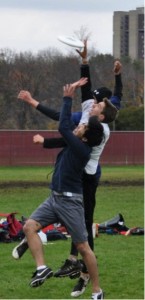 On Sunday, February 19, Tiina Booth, the coach of the Amherst High School Varsity Ultimate Team, Founder of the National Ultimate Training Camp, and former US Junior National Team Coach, ran a clinic at Hotchkiss that was attended by 30 players from four schools.
Leading the drills and instruction with Tiina were Darden Pitts, counselor from the NUTC and Amherst coach, as well as six current ARHS players from the boys and girls teams.
Attending the clinic were players from Choate, Hotchkiss, Miss Porters, and John Jay HS. The clinic focussed on throwing, cutting, marking, running a spread offense, as well as a session on the mental aspect of the game.
Tiina has begun doing a number of "NUTC on the Road" clinics this year – contact her to arrange one in your area!