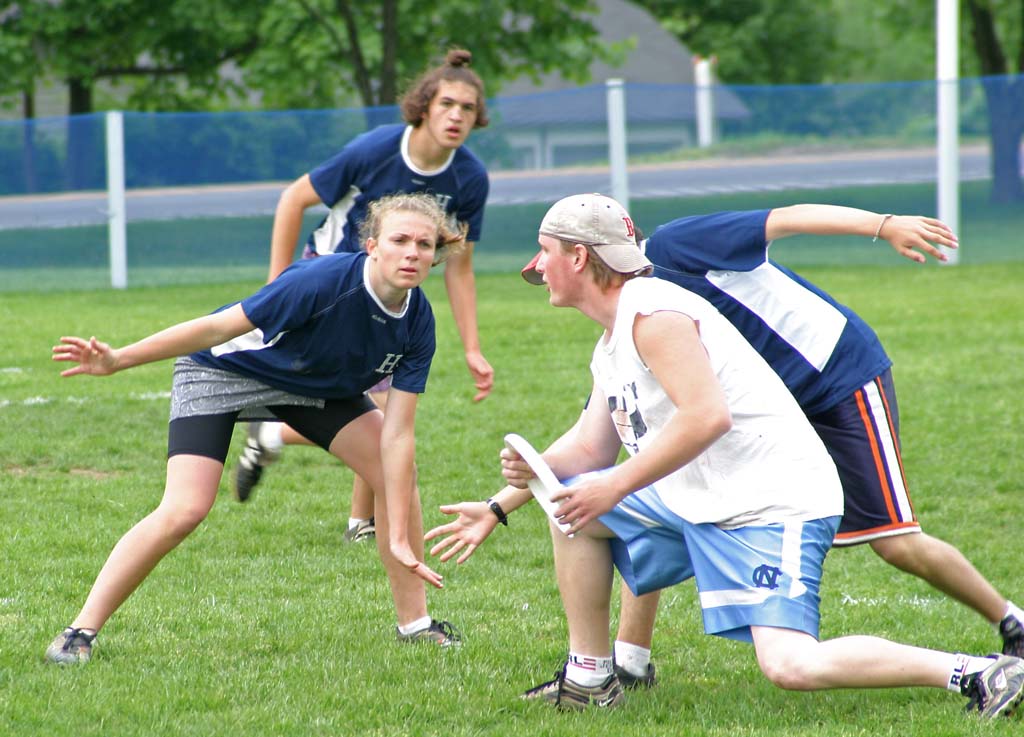 If your school is beginning to offer ultimate or is looking to take an intramural program and begin interscholastic play, the information below should be helpful.
What do you need to start a team?
Players: Male or female, or both – Ultimate is co-ed. Fourteen is the ideal minimum number, but you can do a lot with ten players as well. Many teams carry a roster of 18 to 21; with more players you might think of having an A and a B team.
A field: Most teams play on a soccer or football sized field. An image of an ultimate field can be found here. The field is forty yards wide, the playing area is 70 yards long, and there are two 25 yard long endzones.
Discs: The 175 gram Discraft Ultrastar is the official disc of Ultimate Frisbee. As a youth team, you can order misprinted discs for $3 each here. 10 or 20 should be enough to get you through a season. Discraft also makes custom discs, so you can print one for your team, and sell them as a fund and awareness raiser.
Cones: 8 cones to mark the corners of the endzones can be helpful, even if you have a lined field. More saucer cones are useful for drills.
USA Ultimate Membership, for the coach, at least. If the team plans to go to any USAU-sanctioned tournaments, your players will be members as well, or at least pay a one-time event fee. Note that there is a background check for all coaches, and that it takes some time to get approved – get started early!
Register your team with USA Ultimate in the Team Listing and Score Reporter Tool (linked from the NEPSUL home page). In order to report scores, your team has to have a record. In order to report scores, you have to have at least one person who is a USAU member.
Online Guides to Ultimate
Printed Guides to the game of Ultimate:
Essential Ultimate by Tiina Booth and Michael Baccarrini.
This book is designed to teach the game to anyone, but has a good focus on younger players.
Tiina Booth is the coach of one of the most successful high school ultimate teams in the nation, the Amherst Hurricanes, the founder of the National Ultimate Training Camp, and a former US Junior National Team coach. Michael Baccarini is the coach of Paideia Ultimate, another one of the long-standing top ultimate programs in the nation, and has also been involved with ultimate at all levels.
Ultimate Techniques and Tactics by James Parinella and Eric Zaslow
Jim and Eric played with Boston's Death or Glory (Dog), which won more national titles than any other club team in history. This was the first book to really break down how ultimate works and teach the essential individual and team skills.
Ultimate for Beginners:
Developed in conjunction with the excellent Ultimate Handbook site (see below) and available FREE from the playulty website
Talk With Other Coaches
Reach out to the coaches in your area with questions – the Ultimate community is very friendly and supportive – all of us at NEPSUL were mentored by someone else!