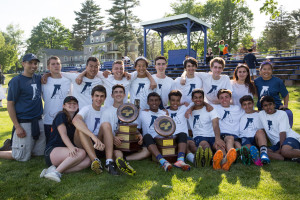 On a lovely May day at Choate, the Phillips Andover Blue Steel not only claimed the New England championships, but shared the spirit award with CSW.
The final was the second of the day between Andover and Hotchkiss, but unlike the first encounter, which Hotchkiss won at the hard cap 7-6, Andover was fully in charge and left no doubt of their ability cruising to a 12-3 victory.
Congrats are also due to Deerfield for winning D2, CSW for winning D2 Spirit, to Gunnery for winning D3, and to the Choate JV and Hotchkiss JV teams for tying for Spirit. The full schedule, with scores, can be seen here. 
As the remarkable tournament central manager Max F. (Choate '17) commented, the average sprit score was 8.8, so a lot of fair play today. Evidence of the good play and feeling of camaraderie between the teams can be seen in the HAHAHAHA photo which the Andover and Hotchkiss teams took after the final.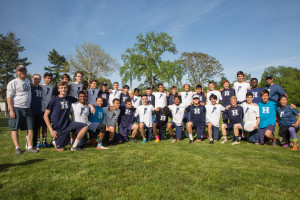 Thanks to Morgan Harris for all his work to host us and the Choate grounds people for the excellent work they do – we'll look forward to seeing you in the spring of 2018!